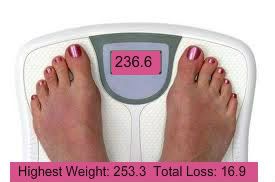 This week I lost 3.2 pounds...woohoo!!! That makes a total of 16.9lbs lost! So excited about that! I did work really hard this week and worked out several days in addition to being on soft foods for 3 days so I think that probably helped. I don't feel that different after my fill, but that might change when I start eating solid foods. So I will be careful and take all of your advice to chew, chew, chew.
My first goal was to lose 15 pounds and my reward was to get a
Fitbit
. I decided to go ahead and buy it earlier this week because it was on sale and I was hoping that I would pass 15 pounds this week. So this morning I weighed in and then when I went to get the mail, it was here! Perfect timing and I didn't think it would come until next week. So that's been fun to play with today and I'm really hoping that it will push me to exercise more and really be aware of how many calories I am burning.
So this week I have set two goals for myself.
Track everything that I eat
Drink at least 48 oz. of water
I kind of slacked off this week with tracking my food. Mainly because I was eating the same thing almost every day. But this is really important to me so I'm going to make myself do it. Also, I know that 48 oz. of water might not seem like a lot, but I've been having trouble getting 32 oz. in. So I think that this is a good goal for this week and then hopefully I can up it next week.
I think that's all I've got. I'm posting my YouTube video for this week if anyone is interested in watching, but I pretty much said all the same stuff I just put in this blog.
Hope everyone has a great weekend!