Today is 3 weeks since surgery and I lost 2.4 pounds this week!!! I was really happy with that since I only lost 1 last week and I also started my TOM yesterday so I know I'm really bloated right now.
Last week in my video I set some goals of avoiding emotional eating, planning my meals, and to join a gym and workout. I'm happy to say that I was able to do all three this week and I really think it helped me to lose more.
I joined my local community center which is so nice. I walked on the indoor track twice this week and loved it! Here are some pictures of my new home away from home.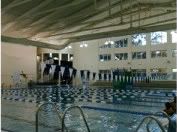 I love doing the videos and want to keep doing them, but I don't want to put both videos and posts on blogger because they pretty much contain the same information. Do you all have any suggestions on if I should put my videos on here or not? I could always just put a link to it if anyone wants to see it? I guess I'll eventually get all of this figured out.
Just wanted to say thank you to everyone for the warm welcome and all of the support since I've started my blog!!! I'm overwhelmed and grateful for all the support, advice and encouragement I have received on here in just two days!